automated assessment tools are great, BUT…
while they can seem helpful, they can still leave you vulnerable to possible legal consequences.
Professional website accessibility audits will help take your business to the next level. Our professional services will help you define a workflow and process to ensure that your site stays current and compliant.
our web accessibility services include:
accessible websites often perform better
There are lots of compelling reasons why you should strive for an accessible website. Many of the web accessibility techniques have a trickle effect in other areas such as improved UI, increased search engine ranking and better engagement rates overall.
increase RFP approval chances
We use a variety of software and devices along with our expert Web Accessibility Specialist (WAS) skills check to ensure that we are able to give you an accurate view of your accessibility compliance.
Our first step is to find out the level of conformance needed, and then to identify the pages to be assessed that best represent the page template and content types within your site, along with any interactive special features.
Unlike software solutions, we not only help you identify the areas of concern, but also remediate them.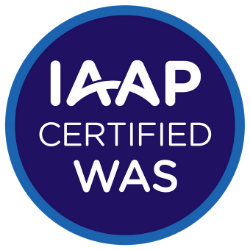 accessibility compliance report (ACR)
Declaring your website's accessibility conformance usually consists of a number of steps.  How often this process needs to be completed depends on how often your website changes and the criteria of the body requesting the ACR.
Accessibility Review to a defined conformance level

Remediation

Accessibility Validation Review to confirm solutions & ensure no new issues were created

Creation of an Accessibility Conformance Report (ACR) based on the review using a VPAT (Voluntary Product Assessment Template) for your conformance level.