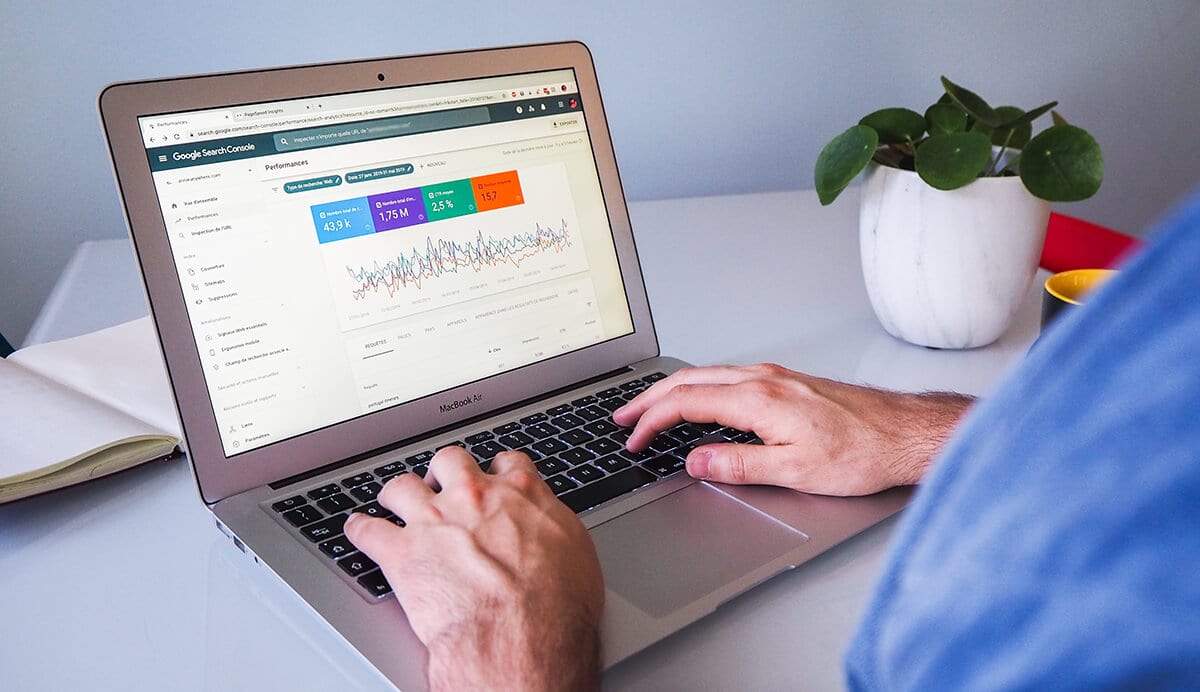 While 2020 hasn't quite lived up to the movie hype – it has brought us some significant changes in technology. Self-Driving cars are getting better, we're getting ever closer to those coveted hoverboards and folding digital screens are a reality! More than ever we're searching the web using voice commands, security and privacy is of utmost importance to consumers, and the pandemic has pushed companies like Google, YouTube, Facebook and Twitter to quickly implement significant changes to combat misinformation.
SEO Trends and Techniques for 2021
AI searching is changing the way search results are served
Google's AI maturity means that users no longer have to focus on inputting search like "Bakery, Toronto". Instead they can either say or type "Where is the closest bakery to me?" or "What bakery in Toronto has the best buns?" This move from one or two word queries to full sentences might not seem huge – but Google is not only able to search for the content itself – but to understand the INTENT of the query and use that to find you the most relevant content – and it's constantly improving.
Amazingly, Google can now learn new words, correct your spelling, find synonyms, resolve semantic ambiguity, search for songs from humming, serve up the relevant portions of videos, and so much more!
With these changes to Google's artificial intelligence, come changes that are an absolute must for your website to stay relevant in search.
Content, Content, Content, CONTENT!
The changes to SEO within the content realm are significant. You cannot rely on keywords alone! You now need to ensure that your content meets your users needs and answers their questions. The success of your site will now weigh more heavily on the QUALITY of your content and not how many keywords you use. What this also means is the days of ridiculously small amounts of text are gone. Google needs content in order to rank your site – you cannot skimp. "My customers don't like to read" is a ridiculous argument when the difference is being ranked or not ranked. According to SEMRush's State of Content Marketing Report:
"Long reads of 3,000-plus words get three times more traffic and four times more shares. They also achieve 3.5 times more backlinks than articles of the average length of 901 to 1,200 words."

SEMRush
A good web page design will allow the content needed to rank along with breathing space for the reader not to feel overwhelmed. Yes, tabs and accordions ARE ok as long as they're not loading the content on click (the content must be present in the HTML on pageload)
Tactics:
Get to the bottom of why they're searching in the first place. Do they need product information? Are they looking to contact you? Do they want a quote or to make a purchase? This will help you develop better content and work on developing optimized user journeys.
Ensure you answer popular questions in your content. (remember to use the question or re-iterate the issue in your content)
Ensure your content is Quality Content! Use references and ensure you deliver content that helps keep them engaged.
Focus on natural speech in your writing. Think about how your clients talk to you and write to their level.
You no longer need to awkwardly place keywords as much as possible!
Entities will now be as important as backlinks
What is an entity?
"An entity is a thing or concept that is singular, unique, well-defined, and distinguishable. For example, an entity may be a person, place, item, idea, abstract concept, concrete element, other suitable thing, or any combination thereof. Generally, entities include things or concepts represented linguistically by nouns. For example, the color "Blue," the city "San Francisco," and the imaginary animal "Unicorn" may each be entities."

Google Patent
Ok – hang on – this one is a bit of a brain twister – but it's super important to understand.
An entity is anything that is:
Singular
Unique
Well-defined
Distinguishable
Basically an entity can be an idea, an adjective, a concept, etc. – anything that can be uniquely defined.
For example if you search for "Presidents of the United States" you will see this: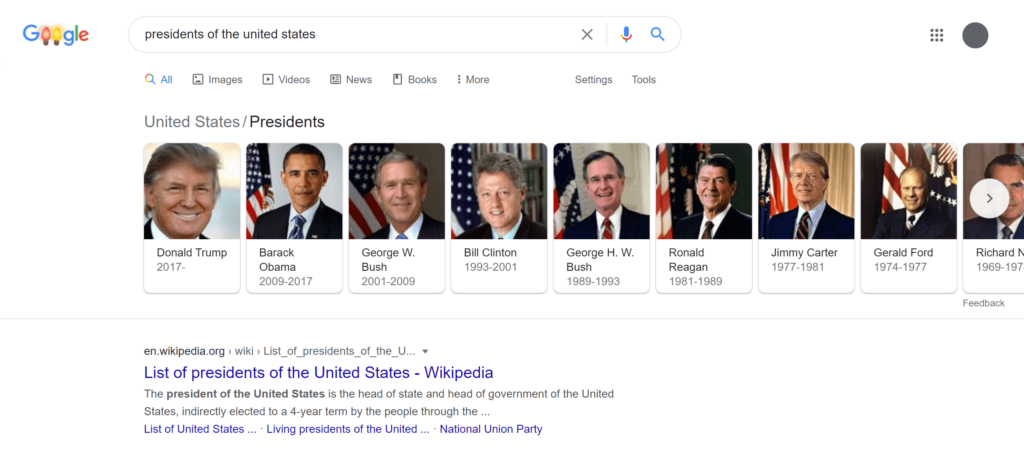 Each of the presidents shown are considered "related entities" and listed because they all share the common denominator of being "President of the United States".
So how does Google "know" that they are related? Let's click on Donald Trump to see more.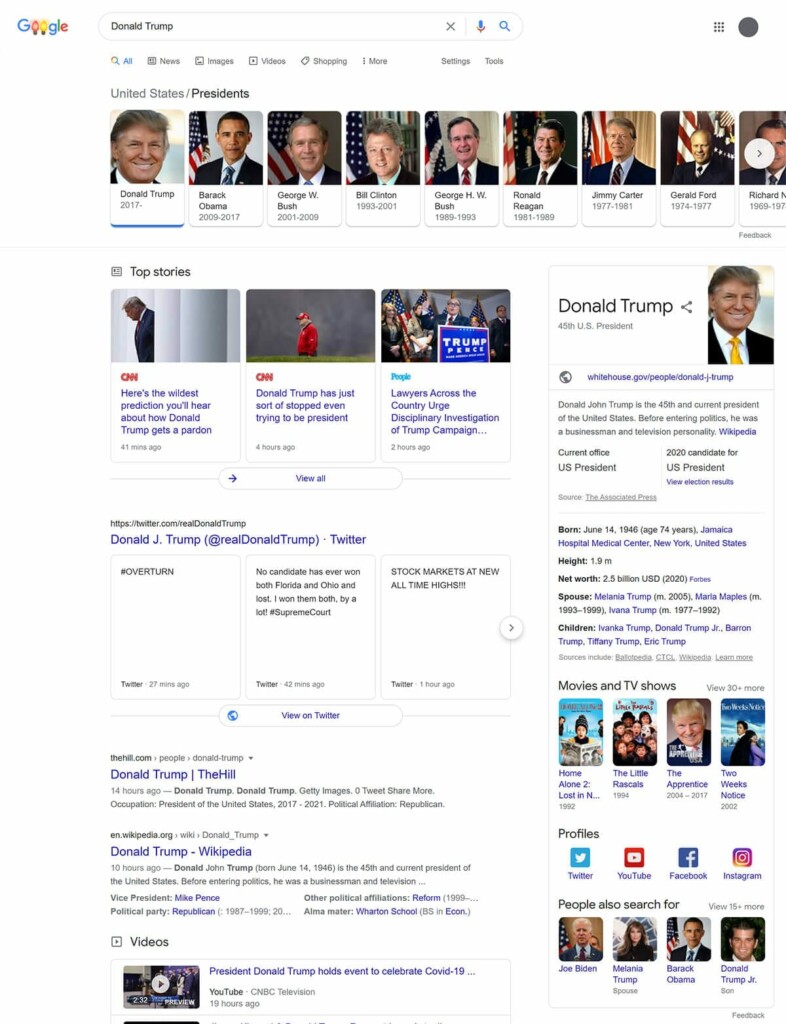 In the knowledge panel sidebar on the right we can see what the Google Entity Database contains for Donald Trump and how it connects to other entities. Here you can visually see how Google is making connections.
"So, instead of having a web of pages connected by backlinks, Google will soon have a web of entities connected by their relationships — a model of the real world. This model will tell Google which companies are trustworthy, which authors are experts, and what content truly deserves to be ranked higher."

Andrei Prakharevich
I know this only skims the surface of entities but I could write a whole post on it. In the meantime, you can read up on entities here.
Tactic:
Wherever it is appropriate add notable entities and links, to help increase your content's ranking.
Structured data is a goldmine of opportunities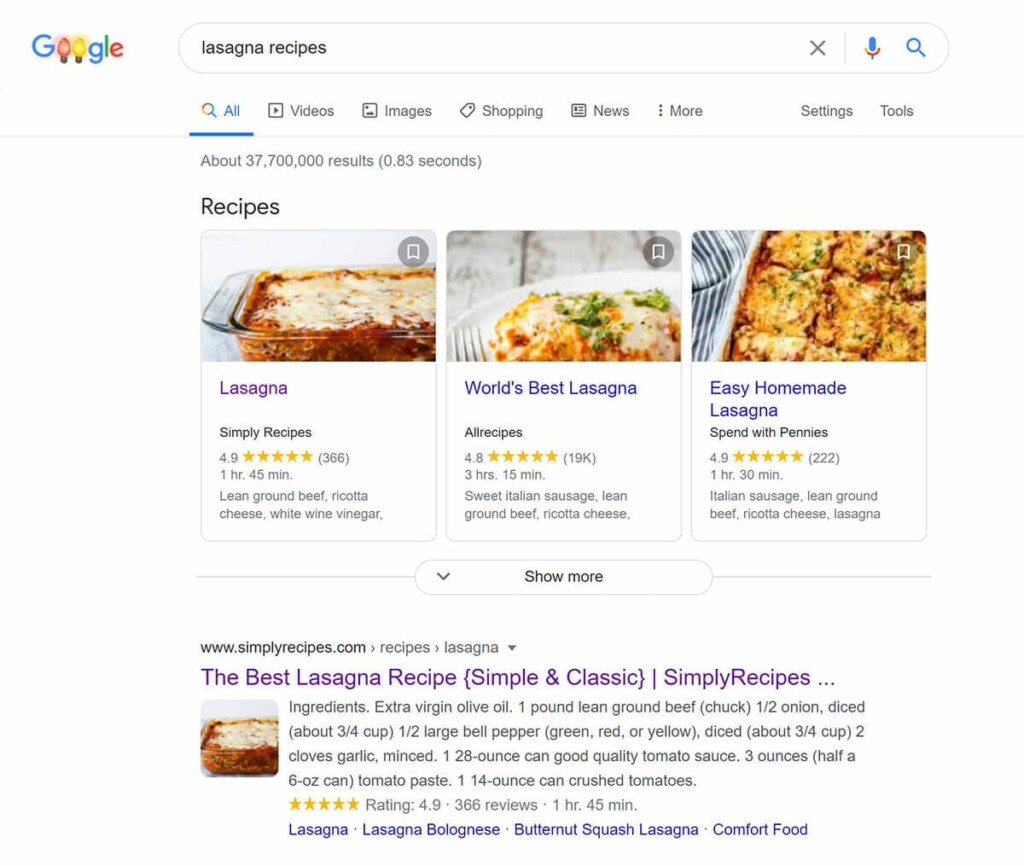 Google knows because the website developer has integrated structured data. In this case they've added the schema:
"name":"Lasagna"
"image":"https://www.simplyrecipes.com/wp-content/uploads/2004/12/lasagna-horiz-a-2000.jpg"
"totalTime":"PT1H45M"
(you can see more options at https://schema.org/Recipe)
This is a very powerful way to include extra information that Google can easily categorize and hopefully get you on your way to being featured! There are WordPress plugins and probably options in most other CMS programs to add structured data. If you're unsure about Structure markup you can use the Google Markup Helper or you may need to contact your web developer for help.
User Experience Impacts Rankings
In May 2020 Google introduced Core Web Vitals. These are three new metrics that will be added to the way Google measures user experience:
Loading
Interactivity
Visual Stability
All three of these revolve around page loading speeds and will come into effect in May 2021. The experts are expecting that these metrics will be more of a tie breaker than a strong ranking signal.
It's important to note that other signals – such as a high bounce rate – are still good indicators to Google as to whether the page should be served up as a result or not. Any pages with a high bounce rate should be checked to ensure that there isn't a loading issue on the page.
"89% of consumers switch to shop with a competitor after a poor website user experience."

Ledgeview Partners
Tactics:
Identify pages that have slow loading times (We can help with that!)
Ensure all images are optimized
Identify pages with high bounce rates with Google Analytics
Find the why!

Slow web server?
Images too large?
Not what user expected?
Not mobile friendly?
Etc. If you can't find the "why," we can help!
"Nearly 80% of American consumers point to speed, convenience, knowledgeable help and friendly service as the most important elements of a positive customer experience."

PwC, 2018
Google will force Mobile-first indexing on all websites
What is mobile-first indexing?
This means the search engine uses the mobile version of your site as the starting point for what Google includes in their index, and the baseline for how they determine rankings. (source: Moz).
This change will roll out in March 2021 – but if your mobile and desktop version are equivalent (for example responsive design) this shouldn't have any significant impact.
Tactic:
Ensure that if you have a separate mobile version of your site that it has equivalent information at all times to your desktop site.
If you don't have a responsive or mobile version of your site… you need to get on that PRONTO!!!
E.A.T. Factors may be more relevant than ever before.
What is E.A.T?
Expertise, Authority & Trustworthiness
While this tends to be a controversial topic in the SEO community it's clear that the basic principles behind E.A.T. are being used in some way to rank websites.
"Is E-A-T a ranking factor? Not if you mean there's some technical thing like speed that we can measure directly. We do use a variety of signals as a proxy to tell if content seems to match E-A-T as humans would assess it. In that regard, yeah, it's a ranking factor."

@dannysullivan Twitter
So thanks to Google for that typical No-Yes answer. But what we can garner from this is that you SHOULD aim to include ways to demonstrate E.A.T. signals.
Tactic:
Create high quality inclusive & informative content
Backup your claims with statistics and facts from reputable sites such as .edu and .gov url's.
Rise of the Zero-Click
What does zero-click mean?
In a zero-click search, the user's query is answered via the Search Engine itself. For example: if you try googling COVID-19, Google will present you with the latest information in your area and has pushed the top website results below. Because of this format, less users are actually clicking any of the ranking results. This experience is expected to continue to grow, and in fact as of 2019, zero-click searches made up more than half of all Google Searches!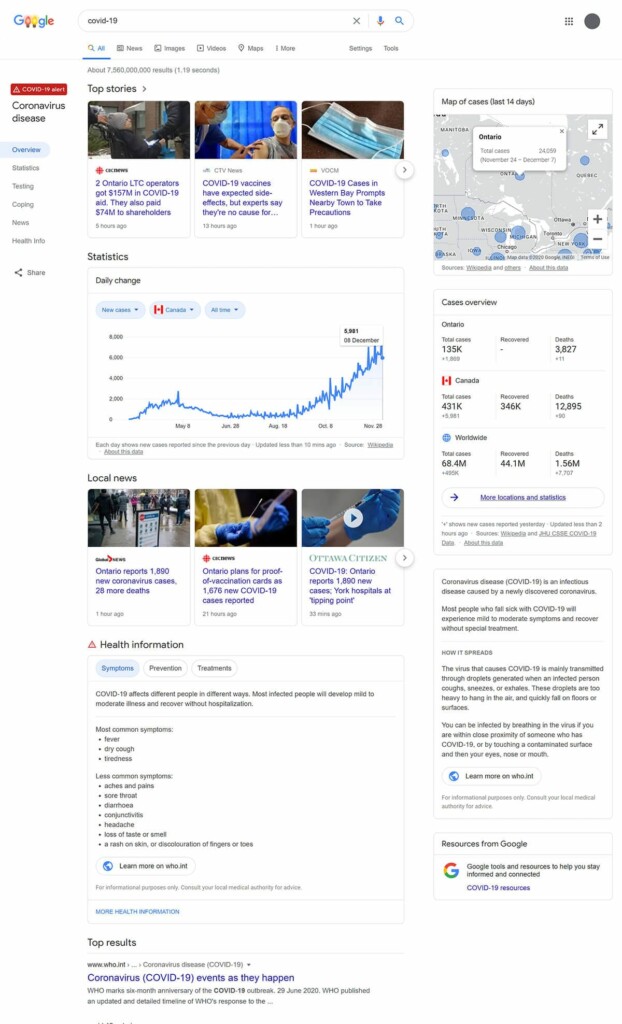 Or for example if you asked "Why is the sky blue?" Google would give you a featured snippet with the answer along with a "People also ask" section that also answers related questions. Again – the website results are pushed down below. You can see in this case how important it could be to capture that featured snipped area.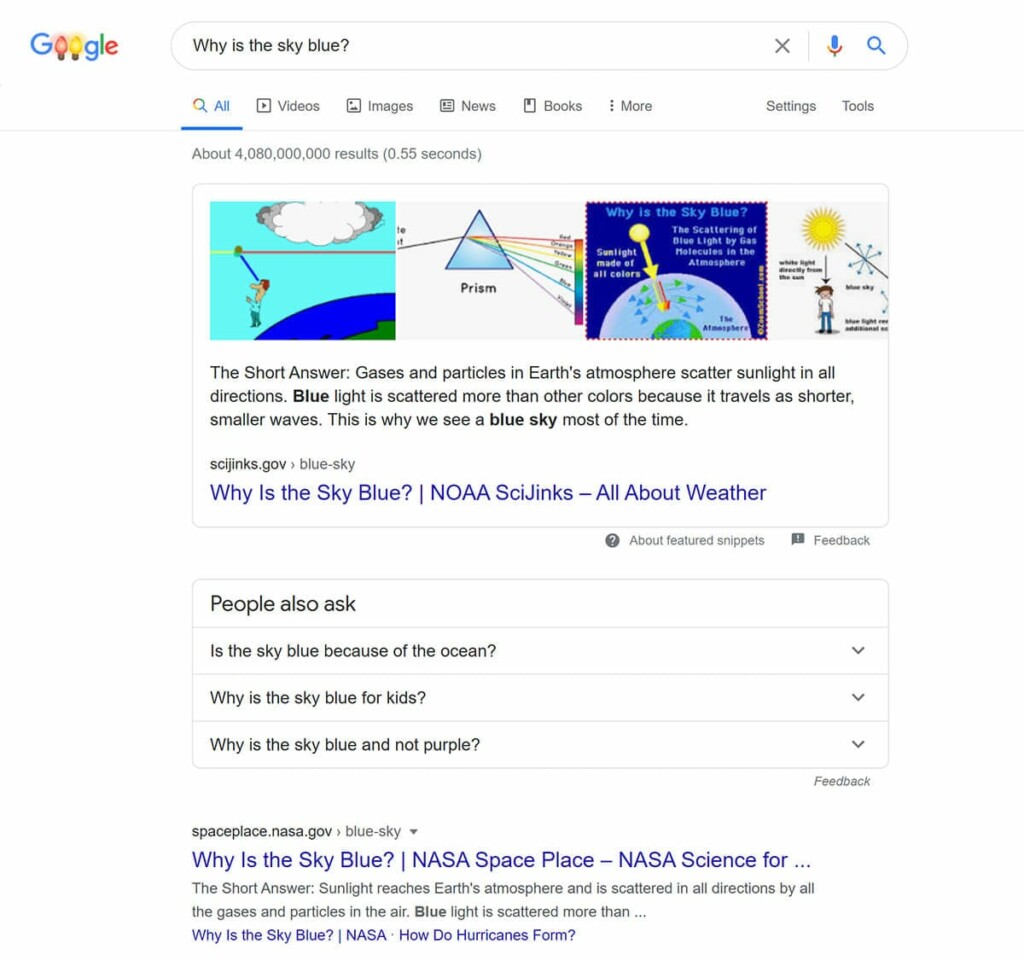 I've always said "Google LOVES it's own content!", and it's never been more true. Many zero-click searches are local searches that show the results in what's dubbed a "local pack". If you have a local business and or physical location, having that Google My Business listing is extremely important for you! Make sure your business listing is thorough, detailed and regularly updated.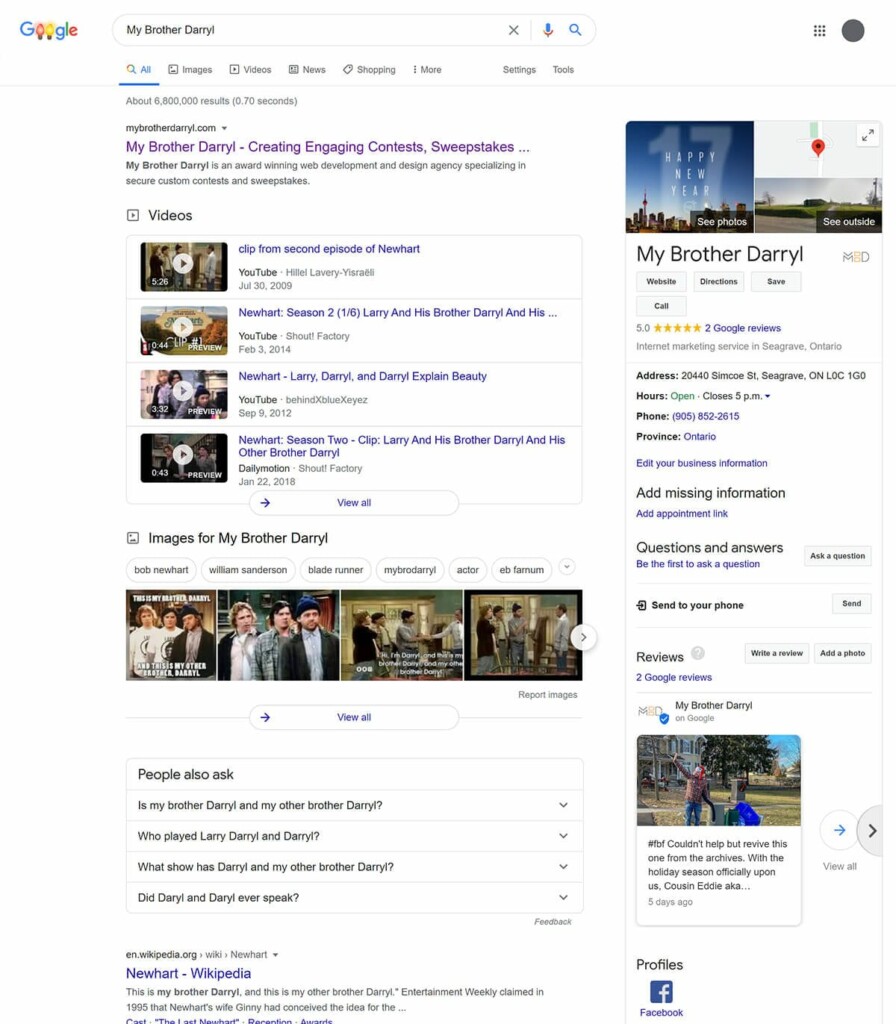 Tactics:
Focus on the highest quality content possible and work on making your site a trusted source for information. Aim to try and get your info shown in featured snippets.
Make sure your information answers common questions!
Ensure that you're using and updating your Google My Business page and linking any posts back to your website. Treat it like your second website. Explore all it's features and keep a close eye on reviews.
Finally – Pay attention to your Analytics!
Watching your analytics and marking changes within the Analytics timeline is an important way to track your successes and failures. Failure is a normal part of the SEO process – the important thing is to catch issues early and remedy them quickly! The only way to do that is to watch your analytics!
Tips:
The average website conversion rate is 2.35% (Source: Funnel Overload)
The amount of traffic is not as important as the amount of engaged users.
High bounce rates indicate something is wrong (70% and higher is a red flag)
Want to increase your reach next year? These tips will help you get moving in the right direction. If you are looking for expert help and advice, contact us today engage@mybrotherdarryl.com
Sources:
https://www.semrush.com/blog/seo-trends/
https://www.link-assistant.com/news/seo-trends-2021.html
https://www.webceo.com/blog/seo-trends/
https://www.proweaver.com/seo-trends-2021